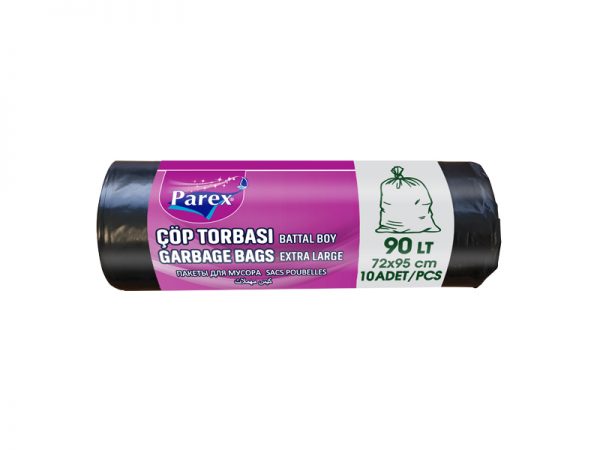 PROFFESSIONAL GARBAGE BAG XL
Helps to keep the environment clean with its high-quality eco-friendly composition
Leak-proof and durable. Prevents growth of germs, flies and insects
No need to clean trash cans
Package quantity: 10; bag dimensions 72*95 cm; 90 liters
Similar Products
PAREX – DRAWSTRING GARBAGE BAGS – MEDIUM – LAVENDER SCENT – BD (20pcs – 55x60cm)

Parex scented trash bags put an end to bad smells and give off sweet lavender smell when taken out of package.
A cleaner world is in your hands thanks to 100% biosoluble Parex Trash Bags.
Parex Trash Bags do not disrupt ecological balance.
It is of high quality and helps keeping the environment clean.
It prevents growth of microbes, flies and insects and does not leak trashes since they are kept in a trash bad with its mouth tied.
Cleaning trashcans is no longer needed.
It is a new generation product and practical and easy to carry thanks to its shirred mouth.
Medium size trash bag is ideal for medium size trashcans in your homes.
The package contains 20 bags.