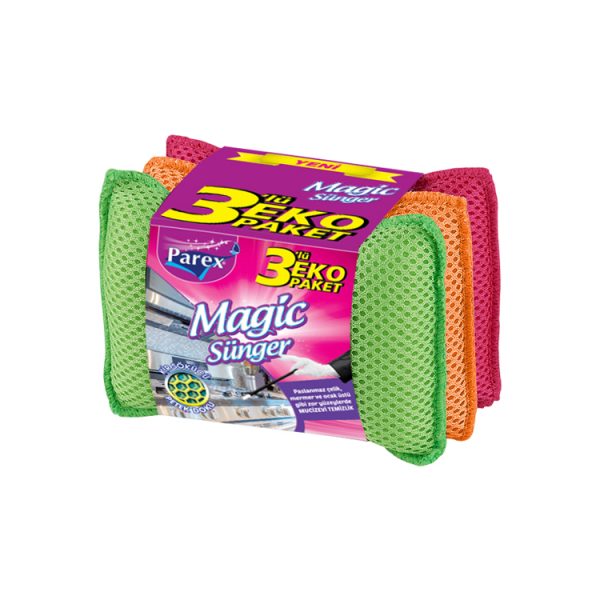 MAGIC SPONGE 3 PIECES
Honeycombed design easily cleans stubborn dirt and stains without scratching the surfaces.
Miraculous cleaning in the kitchen and for the dishes.
Gives excellent results on hard-to-clean surfaces such as bench tops, stove tops and kitchen hoods.
Can be used with or without detergent.
Package contains 3 Magic Sponge.
Similar Products
MEGA COMFORT CLASSIC SPONGE 2 PIECES

Cellulose layer is extra powerful and absorbs more water than regular sponges, thanks to its large pores and does not leave any traces behind.
Easily cleans oil and stubborn stains on dishes and provides perfect brightness.
Can be used conveniently on wet counter, refrigerator or other areas in the kitchen.
The sponge must be soaked in water before use. Cellulose layer becomes hard when dried and softens when wet.

Pink Mat

Quickly eliminates persistent and difficult stains with its specially developed long-lasting fiber texture.
Provides perfect cleaning on stainless steel pots, pans, grills, stove tops and other difficult surface.

Cellulose Sponge

Absorbs water 20 times its weight and makes cleaning easier thanks to its super absorbent pores.
Extra durable.
It is hygienic as it prevents bacterial growth with its fast-drying texture.